New Pack Designs


Look out for the funky new Glue Dots packs including the all new Didi Glue Dots, Continuous Glue Line and 25mm Glue Lines.



New Didi Glue Dots


A 3mm dia Permanent Glue Dots, this is the product for sticking tiny sequins and rhinestones that Mini Glue Dots were still just too big for. 200 Didi Glue Dots per box.



25mm Glue Lines & Continuous Glue Line


25mm Glue Lines - Pre-measured strips of Permanent adhesive that bond instantly, easily and with no mess. 200 Lines per box.

Continuous Glue Line - A 6m length of adhesive strip that can be cut to any desired length, ideal for creating beaded borders or adhering anything metal.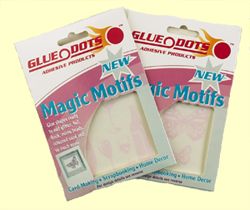 Glue Dots launch Magic Motifs
A brilliant concept that uses images formed in adhesive, to create magnificent, detailed designs for card and paper crafts, scrapbooking, decorative glassware, wood and much more.

Available in many themed designs such as Christmas, New Year, Birthdays, Father's Day, New Baby and Celebrations etc

Click for designs (pdf file)




MICRO DOTS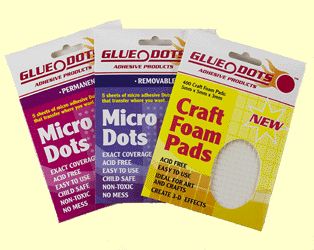 Sheets of transfer adhesive - comes in either PERMANENT or REMOVABLE, achieves exact & complete coverage where you want it.



Excellent for gluing cut out shapes as well as flat surfaces and matting & layering effects.
Permanent - Sticks immediately.

Removable - Cures to permanent after a while, so there's time to re-positiondesigns before they become permanent.



FOAM PADS
Super sticky, 5mm square pads, 3mm thick, to create dramatic 3 dimensional effects with tiny embellishments as well as larger items, paper & card.




REPO DOTS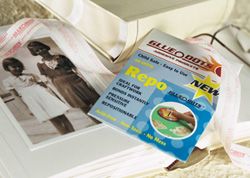 Fantastic for photo & memory albums.

Glue an item in position, change your mind & wish it could be re-positioned.

New REPO Dot with low tack adhesive is designed to be repositionable & can be removed when you want leaving no sticky residue.





Copyright © Glue Dots International Ltd 2003
Site design by Netaddress Ltd